Gads I have to update Taffy. This was taken when I first got her in 2010.
My TW Taffy. We think she is really special.....
Gold Dust Taffy

Favorite's Cream Dream
Whitey Ford
Mr Atlas
Cream Chance Thrill
Moonwalker Blondie
Chance's Gold Dust H
Palomino Rose

Delights Gold Cross

Allen's Bee Royal
Spotted Alen Again
Royal's Queen Bee
Delight's Bee Line
Shakers Nighthawk
Shakers Bee Line
Hello, I'm Boomer a APHA Tob bay mare. I'm about the sweetest mare W.E. and Kathy have ever owned. They sure are happy I'm part of their family.My last foal arrived 1/28/2008. It's a B&W filly and a sweet heart. Check her out on Ringo's foal page.
Shilohs Top Boomer
231352
Sugar Shiloh
Super Bar
Mr Supersonic
Josy Bar
Sugar's Babe
Chief Shiloh
Sandye's Sugar
Denver Sharloton
Two Eyed Denver
Two Eyed jack
Dot Pat Star
Shekels Sharloton
Shekel Bar
Machs jessie
I'm Wendy and a special mare. APHA breeding stock. I came from CA to the ranch from Kathy's dear friend Linda Benner.I'm also Rocky's and Toy's Dam. I'm really proud of them. Rocky is now a beautiful stallion and Toy is going into her third year in the show ring. I had a beautiful sorrel filly 4/30/06 l

.
Susies Toy
More Toys
Bright Top
Top Yellow
Loretta Bright
Lil Drummer Girl
Hatties Badger
Lickety Scoot
Sierra Susie
Sierra Sun
Eternals Sun
Miss Plaudit Robin
Partee Callys
Mr Robin Boy
Oak Bars Lady
Pedigree generated by PedigreeQuery.com
Hi ,I'm Robin and I'm a APHA Bay mare. I'm the mare that Kathy rides when she can find the time and I'm not to pregant.I foaled in March 2008 and I was bred to Pocos Cracker and had a pretty filly. I was rebred to Ringo for a 2010 foal and had a pretty colt is now for sale at this time.
MPR Scribled Robin
443687
Scribled Jet Verse
Scribble A Verse
Versary Bars
Fanny Go Forth
Sevens Miracle
Movin On Deck
Garys Smooth Jet
Missy Jet Flash
Flashy Jet
Jet Flash
Miss Hanky Bars
Misty Break
Super Break
Misty Moon Duster
Pedigree generated by PedigreeQuery.com

My name is Honey and I'm W.E. and Kathy's Pride and Joy. I'm a APHA Tob Palomino and Robin is my mom. I went to the show ring in 2006 as a yearling with Ms Toy but I kept calling for her so mom made me stay home at the last

then Kathy let me go to the last show in Lamar AR and showed me her self. It was her first time

Honey was given to John & Debbie Beaupre in Clarksville AR. I hope they still have her and love her and take good care of her even if I did get screwed on a transaction and lost their friendship which I am so sad about it. Shows you can never tell about people.
DS Robins Lady Badger
821512
Harlens Yella Badger
Jodi Bob Harlan
Harlans Okmulgee
Harlettas Image
Peppy Nancy Carol
Little Pepaleo
Red Cream
MPR Scribled Robin
Scribled Jet Verse
Scribble A Verse
Sevens Miracle
Missy Jet Flash
Flashy Jet
Misty Break
Pedigree generated by PedigreeQuery.com
Lost Foxys picture so I will replace it soon.
I'm Foxy a AQHA Grullo colored mare. When Kathy spotted me out in the field as a 8 month old at her friends she fell in love with me. I hadn't been touched but with Jayme's help and Kathy I have grown into a sweetheart.
Foxy was bred to Zebs Alibii for a 2009 foal. Well that foal is here and we just can't part with him. His color is grulla and I will be rasing him to replace his sire we lost to colic.
Ds King Breeze Fox




Diamond Tiger Step
Zebra Step
Big Step
Miss Hasty Fox
Hawks Diamonds
Diamonds Prim Oil
Candibarred Leo

ARVS Misty Angel

The Impressev Hunk
Impressive Bar Leo
Bivorita Cash
ARVS Roanib Dude
Blondy's Dude
Sassy Kem
I'm called Dan-Yell and there will be updated Pics of me soon. I'm also Homozygous.
Dan-Yell has started her training and as you can see she is a wild thing LOL.
Dan-Yell is now 9 years old wow where did the time go. She willl be having her first foal this year of 2013. We are so excited. So watch for foal pictures.






Docsmoke Poco
Pete Lairs LiL
LynDeePeppyWinrock
Peppy Paint Badger
Rocky Dark Twister
Shilohs Top Boomer
Sugar Shiloh
Super Bar
Sugar's Babe
Denver Sharloton
Two Eyed Denver
Shekels Sharloton
Pedigree generated by PedigreeQuery.com
I'm called Scooby and I'm AQHA and this is my first foal. Her name is Magic. Her sire is Ringo. Kathy's so pleased she finally got her buckskin colored filly. She was born 2/18/2007 and she is APHA.
We lost Magic to EPM and we will always miss her.She was a special filly.

Sierra in her war paint ;-) Sierra is a AQHA cremello filly born 2011, she is so smart and we love her dearly.
Scooby is bred back to Sierra sire for a 2013 foal and we hope it's a cremello and has the comfortmation and temperment like Sierra.
It was a bad year and we lost the foal but Scobby is back at Chris & Dena Nagel's rebreeding. Thank you both Dena for being such wonderful people.
Te Gos A Classic
Skip O Charm
Classical Skipper
Something Classic
Skip N Teeka
Classical Chole
Classical Skipper
Sonoita's Queen
Te Gos Ladypacific
Mighty Te Go
Mighty Te
Miss Mayflower
Pacacake
Pacific Bailey
Ho Cake
Pedigree generated by PedigreeQuery.com
I'm Nikki I'm a Appendix AQHA, mom is a Thoroughbred.My registered name is My Dads A Lark.
Ds My Dads A Lark

X 0653362


Twinkle Twinkle Lark
Rugged Lark
Really Rugged
Alisa Lark
Scusi
Cougar II
Pompey's Pet

Gin Rummy Gin

T 9931423

Stand
Wavering Monarch
Spring Miss
Dewans Early Light
Dewan Keys
Lonaconing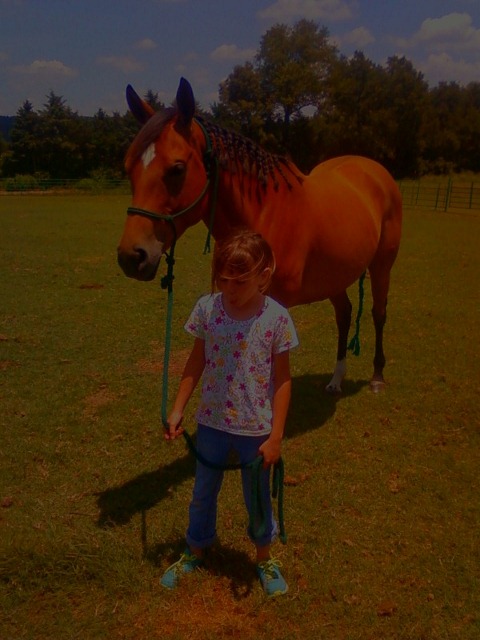 My little friend Brianna with Nikki in June 2013. What a great pair ;-) Love them both dearly
.